One of the oldest bistrot in carouge
the Restaurant
The Café des Négociants welcomes you from Tuesday to Saturday in the heart of Old Carouge, in a warm, authentic setting reminiscent of the famous bouchons in Lyon. With its refined design, old-fashioned advertising and vintage zinc, the décor is sober and elegant. In summer, the terrace is ideal for enjoying the lively atmosphere of this typically Sardinian district.
Considered as an institution, the Café des Négociants serves traditional, refined cuisine. The snail casserole, pan-fried frogs' legs with parsley and the famous "entrecôte carougeoise" are some of the dishes for which the restaurant is renowned. Fine dishes à la carte, seasonal menus and a wine cellar with over 100 references.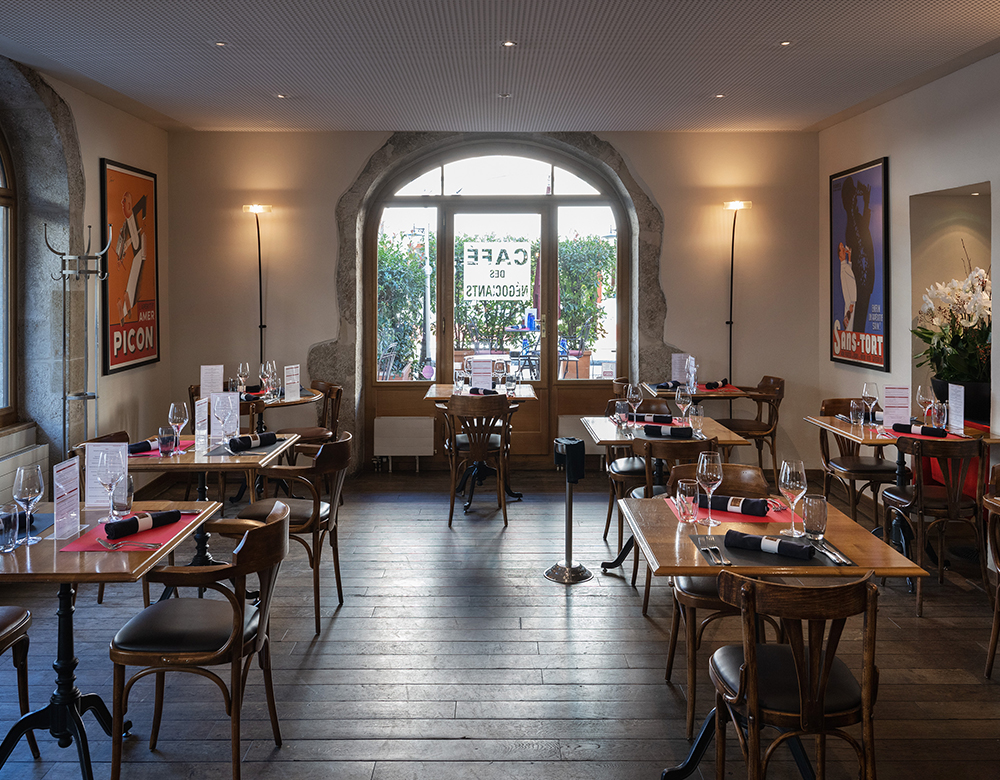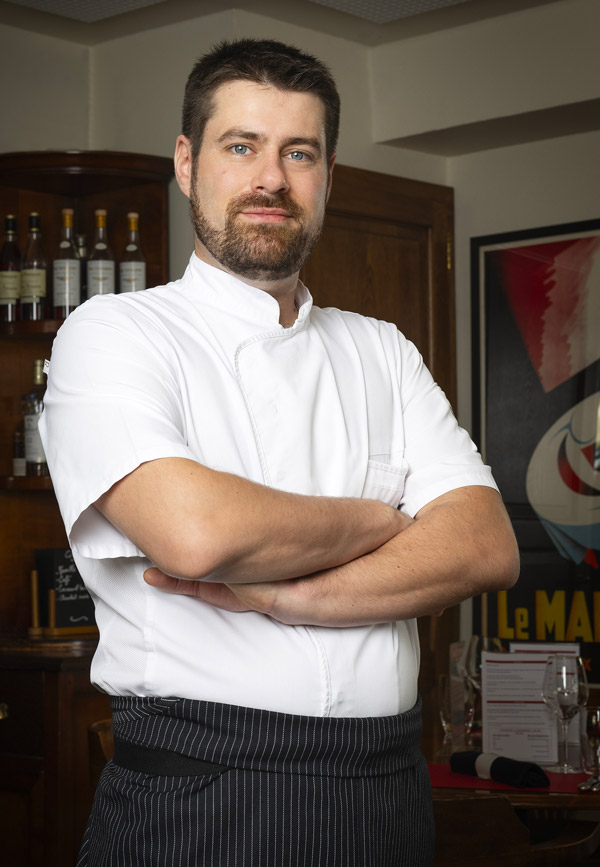 The chef
Romain Loiseau
Romain Loiseau took over the kitchens of the Café des Négociants in June 2021. Originally from the Pays de la Loire region, this 33-year-old chef spent more than 12 years working in Chef Philippe Chevrier's restaurants.
After obtaining his professional diploma in 2010, Romain Loiseau joined Le Domaine de Châteauvieux, Philippe Chevrier's domain, as a commis. He spent 4 years there and climbed the ranks to become a Chef de partie. He then worked for two years at Pont de Brent in Montreux. This formative experience allowed him to refine his cuisine and establish his style. Romain Loiseau returned to Geneva in 2015 and participated in the opening of the steak-house Chez Philippe. He stayed there for a few months before joining another establishment of Philippe Chevrier where he worked for 5 years : the Patio Rive Gauche. In 2021, he took on the challenge of taking over the kitchens of one of the oldest bistros in Old Carouge, the Café des Négociants.
Romain Loiseau offers a flavorful traditional cuisine, simple yet elaborate. His motto: respect for the product and the seasons. Simplicity doesn't mean ease: the chef enjoys playing with textures, adding zest, and working on the aesthetics of his plates. He prioritizes local sourcing and the quality of ingredients.
Le « maitre de maison »
Patrick Gal
An emblematic and loyal figure at the Café des Négociants, Patrick Gal has worked alongside Chef Philippe Chevrier for 20 years. He was the head waiter at Le Vallon in Conches when Philippe Chevrier took over the establishment in 2003. He then joined the Café des Négociants in 2009, when the chef took over ownership of the restaurant. It's been a wonderful adventure for 15 years.
More than a head waiter, Patrick Gal is a "maître de maison", who welcomes his guests in the finest style. It's a passion and a vocation for this restaurant professional, who has worked for almost 40 years in Geneva establishments, combining tradition and expertise to perfection.
Patrick Gal is in charge of organising private events at the Café des Négociants. From the choice of menus to the decoration, he offers a tailor-made service.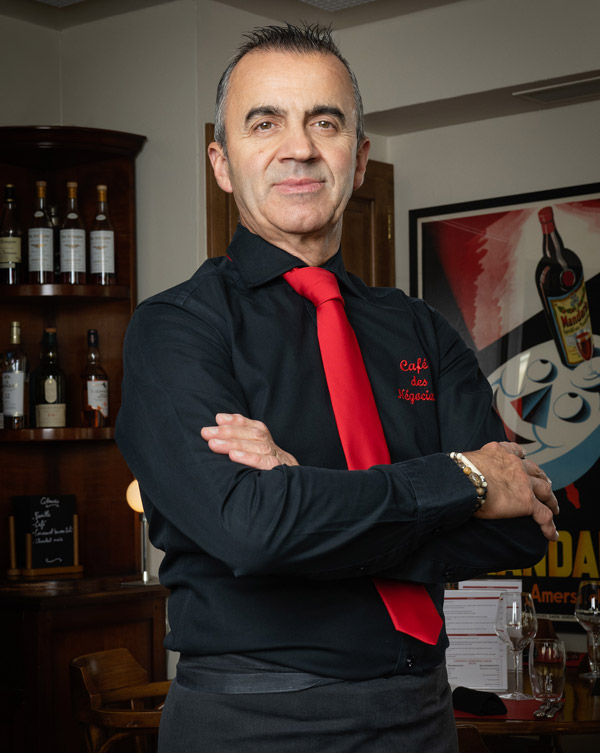 La carte
Menus
Daily plates
Discover our weekly menus